Welcome! Here you will discover a large selection of collectable vintage and classic fishing tackle from the 1850's through to present day.
We sell a mixture of new and pre-owned fishing equipment, view each item for a detailed description.
**We ship to many locations across the globe, Europe, USA, Canada, Japan, UK, Ireland (to name a few).. please see here for shipping prices and info. Please send us a message through our contact form if you have any queries.
Customer's Catch!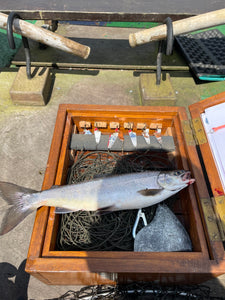 Lake Windermere, The Lake District
A great photo a customer sent in of a Charr caught on Lake Windermere this summer using our Vintage Charr tackle case - great to see it being used again!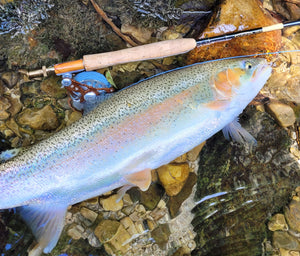 River Traun, Germany
Great photo a customer sent in of a rainbow trout caught with one of our Andy Ramish reels!
We'd Love to see your photos
Feel free to send in what you've hooked. We love to see photos and hear your stories!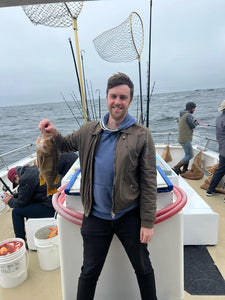 Half Moon Bay, California
Thanks for sending your photo in Dara, great catching this snapper and your first fish, congrats!
April 2023
About us
Hello everyone & welcome to Ireland's Antique Fishing Tackle's online store, located in the North West of Northern Ireland. We are a family-run business including myself, Andy and my daughter Sarah. I have practiced game fishing since boyhood and being based here, it is no surprise to have developed a real passion for salmon and trout fishing.
Inevitably this love of fishing has evolved into an interest for collecting vintage fishing tackle.  
This all-consuming hobby of many years has led to me being involved in the valuation of period tackle such as products from Allcock's, Hardy's, Young's, Malloch, carved fish and taxidermy etc, on a daily basis, where I continuously search for these and other rare items, consequently the volume of merchandise that I have acquired in Ireland has led to the creation of this website during 2008. 
I wish to assure potential purchasers that I will warrant my product's description and give an honest, detailed appraisal of the physical condition thereof drawing upon my considerable experience. Obviously as with all antiques, pricing reflects condition.
So feel reassured and relaxed in your choosing. Either me or my daughter will endeavour to satisfy any queries that you may have, please feel free to contact us.